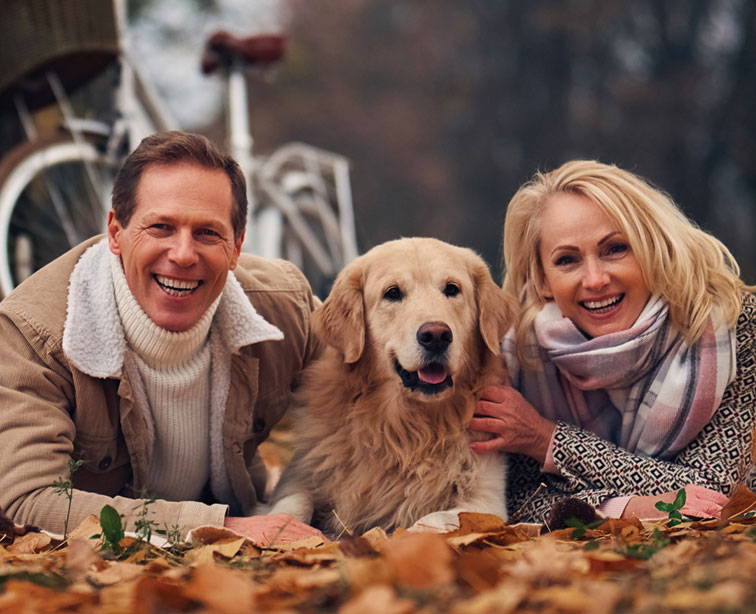 Top 5 Dog Joint Health Products
According to the Arthritis Foundation, 20% of all dogs one year and older have some form of arthritis. By the time they reach the age of seven years old, their chances of suffering from debilitating joint issues skyrocket to 60%. Arthritis is the most common disease in dogs. This is a serious problem – because joint disease can have a huge impact on your dog's mobility, energy levels, personality, and overall quality of life.
It's no surprise, then, that pet owners are increasingly turning to joint health supplements to protect their dogs from joint inflammation and the pain and mobility issues that come from excessive wear and tear on an animal's joints.
Nor is it surprising that the market for dog joint supplements has exploded in recent years! Pet owners these days can find countless products available in retail stores and online that claim to provide protection and relief from joint inflammation and disease in dogs. Our team decided to do our own research to deepen our understanding of what's out there and which products do the best job of protecting dogs from arthritis and other joint-related issues. We reviewed dozens of the most popular retail and natural health brands available online and in retail stores and narrowed it down to our top six.

What We Looked For:
ALL-NATURAL INGREDIENTS
Natural health and sustainable living are important values for us, so we prioritized products that featured all-natural ingredients of the highest possible quality.

Our list of preferred ingredients included:
Glucosamine is a naturally occurring compound that is found in the shells of shellfish. It reduces inflammation and boosts the repair of damaged cartilage (specifically the spongey, moist layer that forms a cushion between joints and prevents bones from rubbing against each other). Glucosamine is used to treat arthritis in humans, horses, cats, and dogs and is particularly effective when used in conjunction with chondroitin.
Chondroitin comes from the shells of crabs, oysters, and shrimp, and can also be made from cow or pig cartilage. It helps reduce inflammation and retains water and elasticity within the cartilage and is often combined with glucosamine to promote healthy joint functioning.
MSM (or Methylsulfonylmethane) is a natural source of sulfur, one of the essential building blocks for cell membranes. It has powerful antioxidant and anti-inflammatory properties and has been shown to prevent the breakdown of joint cartilage. It has also been used effectively to treat repetitive stress injuries.
Dogs suffering from joint problems require more Vitamin C than what their bodies can produce. That's why it's an important nutrient to include in any product supporting good joint health. Vitamin C is a powerful antioxidant that slows the aging process and increases your dog's ability to absorb essential nutrients.
Green-lipped mussels contain high levels of Omega-3 fatty acids and furan fatty acids, powerful antioxidants that have been proven to reduce inflammation and prevent joint degeneration. These mussels have been used medicinally for hundreds of years and recent studies have shown they are effective at fighting joint inflammation and pain in dogs as well as humans.
Sea cucumbers have also been used as a medicinal and nutritional staple for hundreds of years, and are a valuable source of fatty acids and amino acids, as well as Vitamins A and C, Calcium, Iron, Zinc, and other essential nutrients. They are also known to have anti-inflammatory properties and have been traditionally used to treat arthritis, chronic joint pain, tendonitis, muscle and ligament injuries, and tissue damage.
Vitamin E is derived from vegetable oils as well as oily fish such as mackerel, salmon, and herring. It is another known antioxidant and anti-inflammatory that can help to decrease the effects of oxidation on your dog's joints.
We focused on products containing only ingredients that had been proven through peer-reviewed scientific research to have a beneficial effect on joint health.
GOOD FOR DOGS OF ALL AGES & BREEDS

A lot of different products out there aren't effective for all types of dogs. Some are more effective for small breeds only, while others may be beneficial for old dogs nearing the end of their lives but shouldn't be given to dogs that are just a few years old. We focused on products that are highly effective for all dogs, regardless of age, breed, or size.
Supplements are only effective if your dog is willing to take them! We gave top marks to products that dogs actually enjoy the taste of and were willing to take without fuss.
We gave top marks to pet health companies that made their supplements at FDA-approved labs here in the USA. We believe in shopping local when possible. Also, quality control.
Any products containing the following were automatically disqualified from consideration:
Artificial flavor, color, or dye

Harmful preservatives, such as nitrites or nitrates

Corn syrup, which can contribute to obesity and high blood pressure

Soy, which can contain trace amounts of pesticide and contribute to hypothyroidism in dogs

Any suspected toxin or carcinogen
Based on our research, here are the top 5 choices, ranked in order:
#1: VetSmart Formulas Advanced
Hip + Joint Complex with MSM:
The highest amount of glucosamine (by far) - at 1,680 mg per serving, this product blows the others out of the water

The highest amount of MSM, with 840 mg per serving

The highest amount of Green-Lipped Mussel (by far) with 840 mg

The highest amount of Vitamin C (by far) with 1,052 mg

The highest amount of Vitamin E (by far) with 212 IU

The ONLY product with sea cucumber, a powerful joint relief supplement

Good for dog breeds of all sizes and ages

High customer appreciation score

Ease of use

Vet strength

Dogs love the taste and look forward to it as a treat

Safe for long-term use in younger dogs dealing with early onset joint issues

Green-lipped mussels sustainably harvested in New Zealand
At $59/bottle, this isn't the cheapest product on the market. But the vastly superior amount of active natural ingredients per serving will likely justify the higher price tag to dog owners who are willing to do whatever they can to alleviate their dog's joint pain and mobility issues.
Originally designed for veterinarians, VetSmart Formulas Advanced Hip + Joint Complex with MSM delivers the clinical-strength, quality and efficacy veterinarians expect. It is made to the highest quality standards and is safe for dogs of all ages to use, even those with allergies.
#2: Zesty Paws Senior Advanced Mobility Bites: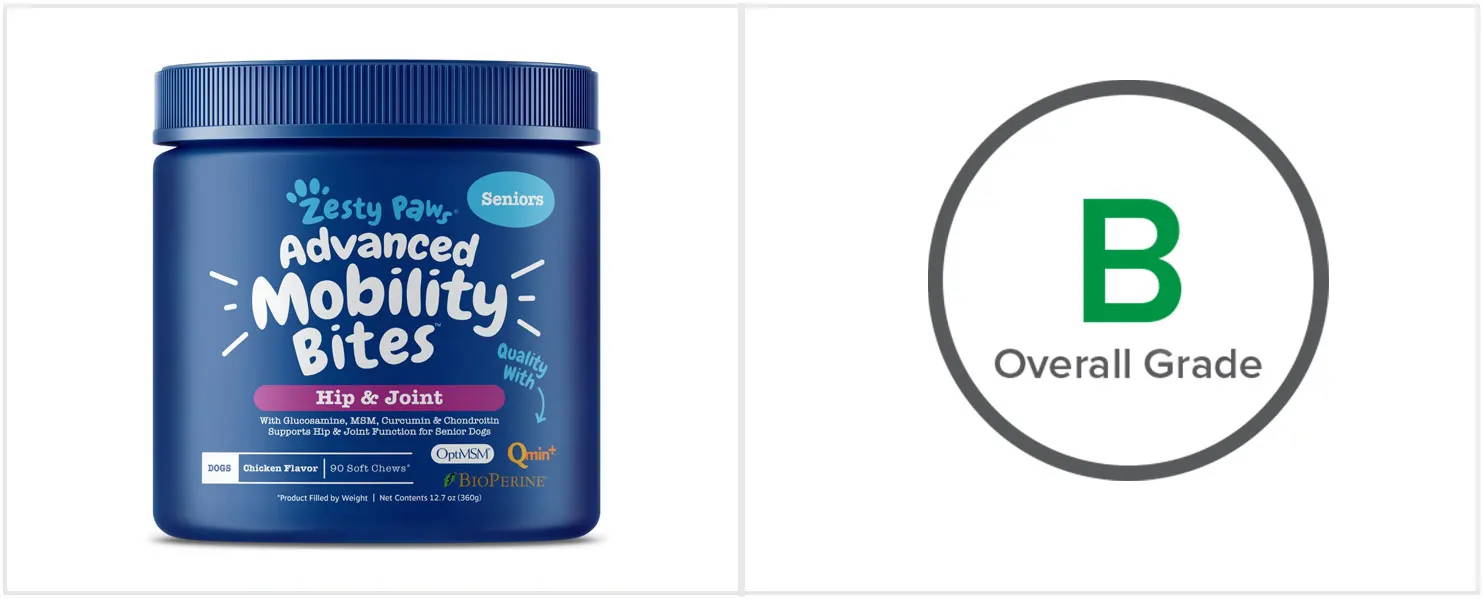 Contains a relatively high amount of Glucosamine per daily dose (900 mg)

Contains a good amount of MSM (700 mg)

Contains decent amount of Green-Lipped Mussel (400 mg)

Contains a decent amount of Vitamin E (64 IU)

At $36/jar, more affordable than other options
No sea cucumber, which we believe is a superior joint health product to curcumin and sea kelp, and just a small amount of Vitamin C compared to VetSmart Formulas Advanced Hip + Joint Complex. Also, since these tablets have been designed specifically for senior dogs, they may not be good for long-term use in younger dogs who may be experiencing early onset joint issues.
These chewable tablets contain curcumin and sea kelp and are designed to help older dogs with their hip and joint issues.
#3: PetHonesty Pure Mobility Max Strength Joint Support: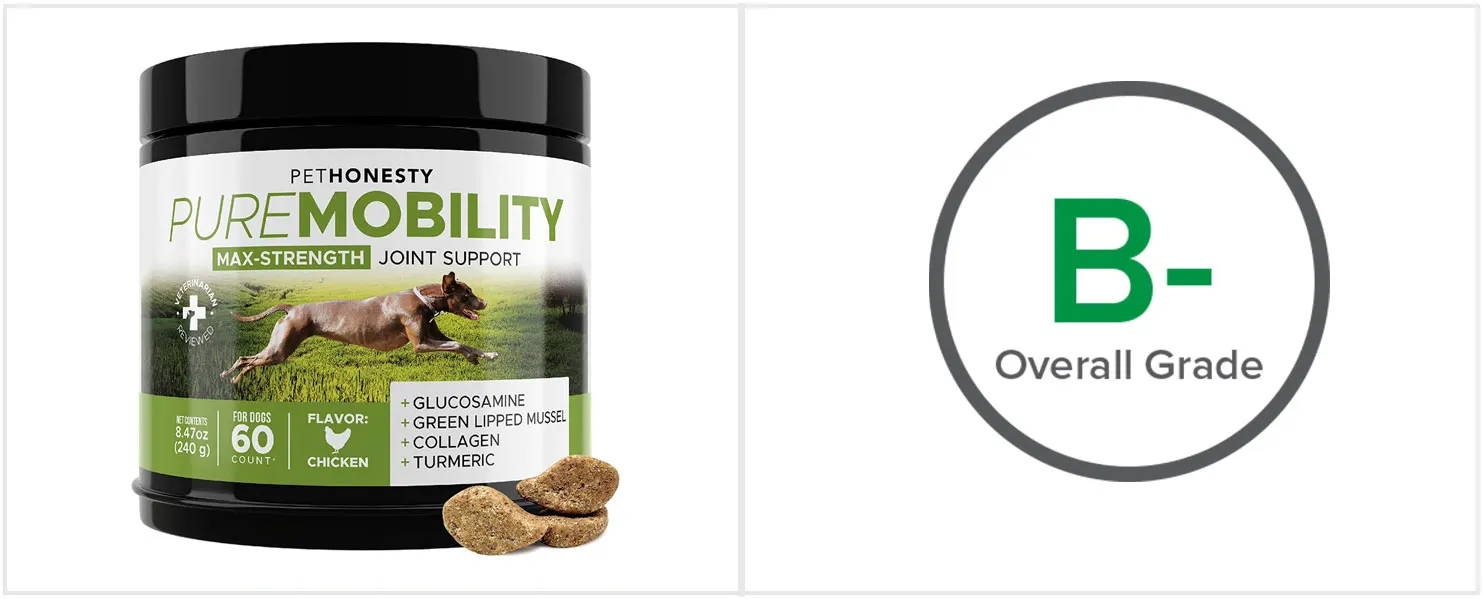 Contains a decent amount of Glucosamine per daily dose (700 mg)

Contains good amount of Green-Lipped Mussel (500 mg)

Contains decent amount of MSM (300 mg)

Contains more Vitamin C than most other products (200 mg)

Contains vitamin E
No sea cucumber. Also, we found the range of different joint supplement products to be a bit confusing. How can a pet owner tell if their dog would be better served with Hemp Mobility, Advanced Mobility, or Pure Mobility, without trying all three options?
This soft chew product is just one of several joint support products from PetHonesty. They also feature Hemp Mobility, Advanced Mobility, and Hemp Mobility for Senior Dogs.
#4: YuMove Joint Supplement: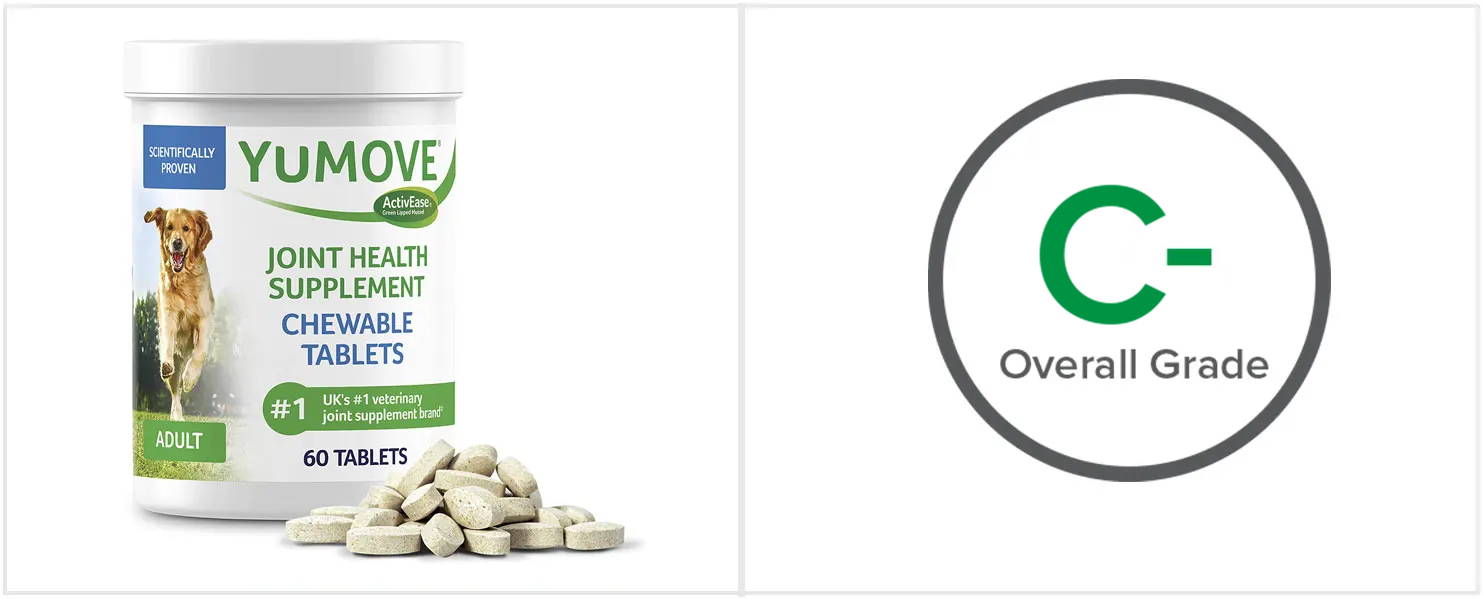 Contains decent amount of glucosamine (500 mg)

Contains Vitamin C & E (but amounts are so small)

Contains decent amount of green-lipped mussel (300 mg)
Contains no MSM!

Contains no sea cucumber

Bundling it with other products seems unnecessary & costly
These chewable tablets are backed by 15 years of clinical research and are billed as the UK's #1 joint supplement for pets. They are now being positioned as part of a 3-product approach to protecting dogs against joint disease in combination with other chewable treats.
#5: Dr. Lyons' Advanced Strength Hip & Joint Health: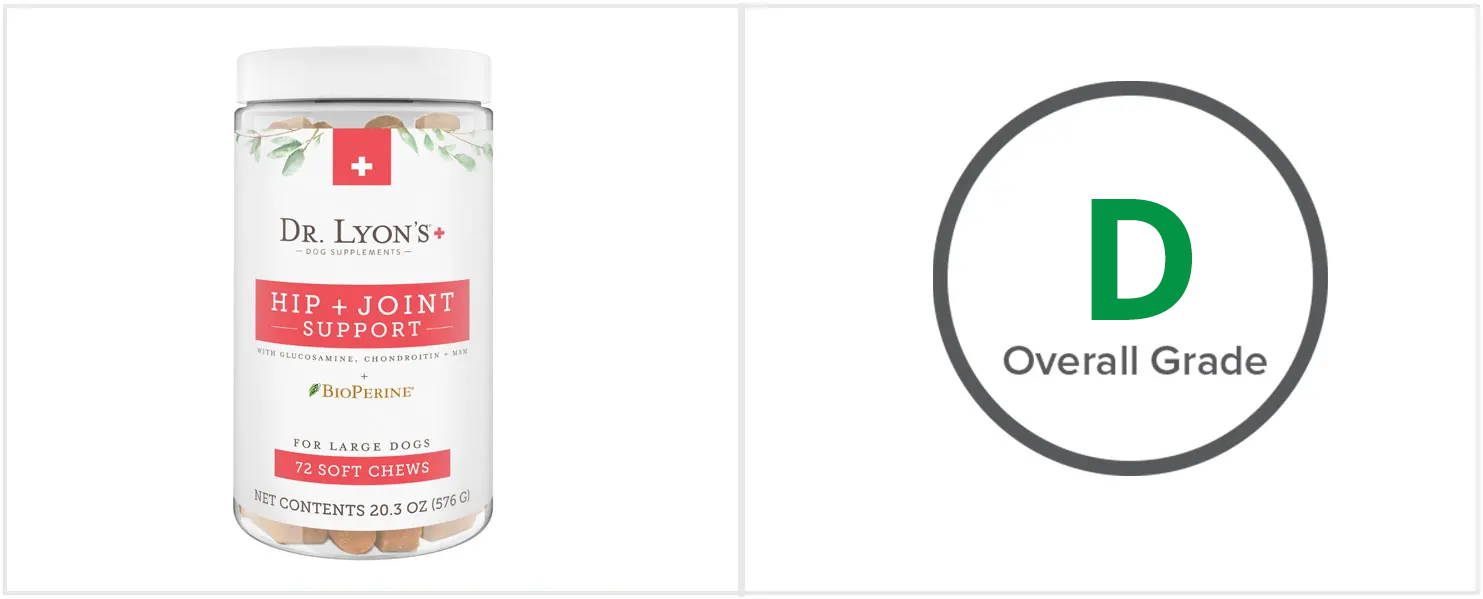 Contains decent amount of Glucosamine (500 mg)

Contains Vitamin C (although 50 mg is low)
Only 50 mg MSM

No green-lipped mussel

No sea cucumber

No Vitamin E
These soft chews contain glucosamine, MSM and chondroitin to help support mobility and promote the production of healthy cartilage.
Given its high amounts of Glucosamine, MSM, green-lipped mussel, sea cucumber, and Vitamin C and E, VetSmart Formulas Advanced Hip + Joint Complex is our top pick for protecting dogs of all breeds and ages from joint disease. Not only does this product help reduce inflammation and relieve pain, it actually helps to rebuild damaged cartilage and restore that "puppy playfulness" you may have worried was forever lost. Because of the high amounts of high-quality active ingredients, it's not surprising that this product is a bit more expensive than some of its competitors, which may put it beyond reach of some pet owners' budgets. But we suspect that pet owners who can afford it and want the absolute best for their dogs will be delighted by the results.