Introducing Critical Immune Defense from VetSmart Formulas.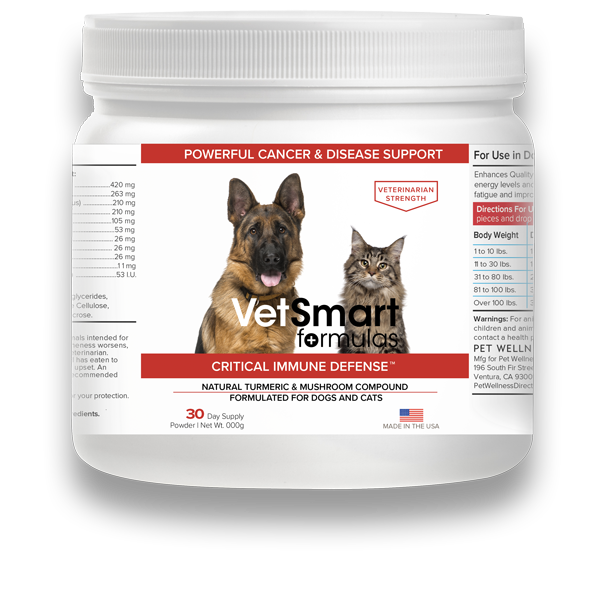 Dear Fellow Pet Lovers,
Thank you for being a loyal VetSmart Formulas customer! I would like to invite you to be part of a very select group of people to join a free trial test of a new product that we are launching.
Did you know that 50% of dogs and 32% of cats over the age of 10 get cancer? These are scary statistics, but very real. I had no idea until it hit home with my dog. The Oncologist gave her 4 months to live at the time of the diagnosis, and it's been over 23 months thanks to a new all-natural product that we developed at Pet Wellness Direct called Critical Immune Defense.
Why do dogs and cats get cancer? There's a number of reasons. The environment plays a big part in cancer rates, and since both dogs and cats spend a lot of time on the ground, they are like little mops gathering all the bad things found there. It can also be caused by the food they eat, or the water that they drink. Sometimes it's a hereditary or genetic trait. The bottom line is the statistics are staggering and a huge number of dogs and cats get cancer as they age.
What can you do about it? When dogs and cats have a compromised immune system, it makes it difficult for them to prevent or fight cancer. To help with this, medical experts recommend that you boost their immune system to assist in preventing cancer, or like with my dog, to help battle cancer that have.  
Why is Pet Wellness Direct selling this product? When my dog was diagnosed with bone cancer, I started researching and looking at the various ways to help battle the problem. My dog's amazing Oncologist suggested I look at a natural mushroom-based product that would help. I used the product and results were beyond anything that I expected. When I learned about the cancer rate in both dogs and cats, I was shocked. So, to help other pet owners, I felt that we could make a better immune boosting product than anything currently available on the market. From this, Critical Immune Defense was developed. This is a product that is all-natural and safe, and one that was formulated so Veterinarians would be comfortable recommending it to their patients.
What does VetSmart Formulas Critical Immune Defense do? It helps to act like a natural barrier to protect your pet from the ravaging effects of cancer. In fact, our development experts and formulation scientists say this is the most powerful immune booster on the market, and we are excited to help prevent and fight pet cancer with this new product.  
Here's a few facts about Critical Immune Defense:
Like all VetSmart Formulas products, it is all-natural.  

It has no artificial flavors or colors and is wheat-free.

It's made in the USA in FDA certified labs.

It is Veterinarian strength and can be used with most prescription medications that your pet might be using. In fact, if your cat or dog is taking chemotherapy like my dog, they can use Critical Immune Defense with great success. As always, we ask that you check with your Oncologist or vet.

It's super simple to take. You sprinkle the powder in your pet's food. You can combine it with all other VetSmart Formulas products that your pet is taking.

The flavor is great, and cats and dogs will love it.

The key ingredients are a powerful combination of mushrooms, turmeric and vitamins. There is nothing like this on the market for pets. Here is a summary of the key ingredients:

Proprietary blend of Shitake, Reishi, Maitake and Turkey Tail Mushrooms

Turmeric Extract

Vitamins A, C, and E

Coenzyme Q-10

Milk Thistle Seed

Flax

Coconut Powder

Pepperine

Natural chicken liver flavors

The product will be available later this year, and as with all VetSmart Formulas products it will be not be sold in retail stores, and only available online from Pet Wellness Direct.
We are excited about this new product! At this time, we are recruiting a group of 50 cat owners and 50 dog owners to use the product on a free trial basis. When our test batch is ready, we will send you a 30-day supply of Critical Immune Defense, at no cost to you. All we ask in return is to help us with an online survey to give us feedback on how your pet likes the product, and the results that you observe.
If you are interested in helping us, please fill out the form on this page. We will let you know if you are eligible for the trial group and will keep you informed when the product samples are being sent to you. We estimate the product samples will be ready in approximately 30-60 days.
We believe that your dog is part of your family, and every family member counts! So, help us to help other pets!
Thanks so much,
Russell Kamalski
Founder | Pet Wellness Direct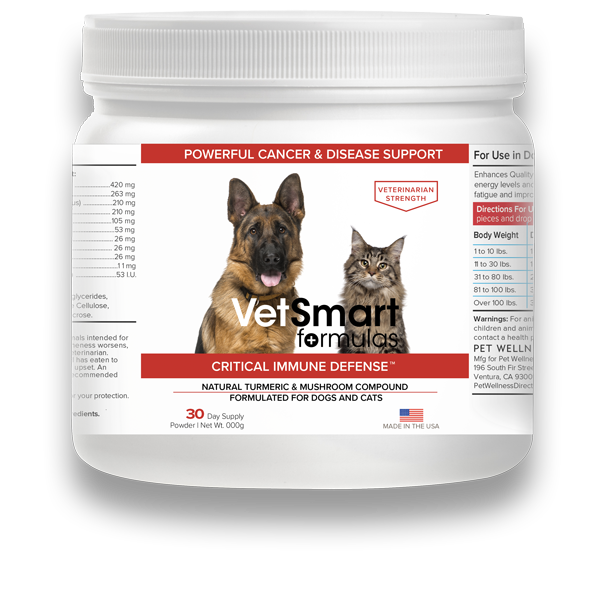 Complete this form to be considered for our free trial offer.

Thank you! We'll be in touch soon
This field is required
This field is required
This field is required
This field is required
This field is required
This field is required
This field is required
This field is required
This field is required
This field is required
This field is required
This field is required
This field is required
This field is required
This field is required
This field is required
Q: What does my pet's immune system actually do, and why should I care?
A:  Here is a good description from a veterinarian:   "The immune system acts like a nonstop housekeeper", describes Dr. Donna Raditic, an American College of Veterinary Nutrition (ACVN) diplomate who does consulting on nutrition and integrative veterinary medicine in Athens, Georgia. "It identifies potentially harmful pathogens like bacteria, viruses, fungi, and parasites, then works to eliminate them before they can do harm. When other cells are aging or functioning abnormally—such as a cancer cell reproducing too rapidly—the immune system attempts to step in and maintain proper physiological function and balance," Raditic explains.
Q:  My dog or cat is not that old so why do I need to give them this product now?
A:  The time to start any preventative action is before your pet has an issue. As dogs and cat age, their immune systems are not as strong and they are more susceptible to diseases. A weak immune system in dogs and cats can cause a variety of diseases such as infections, diabetes, osteoarthritis and cancers.
Q:  My pet has a sensitive stomach. Will this product cause issues?
A:  Not likely. However, for pets with sensitive stomachs, give the product a try by easing them into it slowly. Start with 1/3 or 1/2 the recommended dose, and work your way up to full does over a 1-2 week period. If you notice any issues, simply stop using the product.
Q: My dog is taking VetSmart Formulas Hip + Joint Complex and the Probiotic. Can I use Critical Immune Defense along with them?
A:  Yes, Absolutely! There is no problem using all the products together.
Q: My pet currently has cancer and is taking chemotherapy medications. Can I use Critical Immune Defense along with the chemotherapy.
A:  Yes. Our product is all-natural and designed to be taken with chemotherapy medications. It will help boost their immune system that might be compromised by the chemo medications. If your pet is being treated for any serious medical condition, we always suggest that you discuss the use with your veterinarian.
Q: My pet is taking prescription steroids or pain medications for another health issue. Can I use Critical Immune Defense along with the medications?
A:  Yes.  Our product is all-natural and designed to be taken with prescription medications. It will help boost their immune system that might be compromised by the medications.
Q: My pet is so old already. Is it too late to start and will it really make a difference?
A:  No pet is too old to start using an all-natural product that will help them live a better and longer life! It's similar to someone who starts exercising at 80 years old. Every bit helps!
Q:  I love my pet just like a family member. Will Critical Immune Defense prevent them from getting cancer?
A:  We can't guarantee that, but what we do know is our product is very effective at boosting their immune system which helps fight diseases.
Q: My pet is a picky eater. How do I give them the product and does it taste bad?
A:  Critical Immune Defense is very easy to give to your pet. It's a powder that you simply sprinkle on their food. It has a natural flavor that appeals to both dogs and cats and most pets love the flavor.  
Q: You mentioned that 50% of dogs and 32% of cats over the age of 10 years old get cancer. Those statistics seem very high. Where are they from?
A:  We agree. The numbers are frighteningly high! There is so much research and clinical studies around the percentages of dogs and cats that get cancer. You can Google it and see the various studies online.
Q: Are Turkey Tail Mushrooms from live turkeys?
A: No, they are not. Turkey Tail Mushrooms, also known as Coriolus Versicolor are a common type of mushroom that have the shape and color of a turkey tail. What is unique about our Turkey Tail Mushrooms is they are harvested at a very young age when the polysaccharides and peptides are the most powerful at boosting the imune system.
Q: I've seen other Turkey Tail products for pets online. Is your product any better?
A:  We love this question! Our product is one of the most powerful immune boosters for pets on the market. We have combined a blend of four mushrooms along with turmeric and vitamins to create what we feel is the absolute best product on the market. Our ingredients are standardized to the highest potency and the product is veterinarian strength. We invite you to compare the labels and the ingredients in our product to any others on the market to see for yourself!