Dear Fellow Pet Lovers,
Thank you for your interest in participating in our free trial group. Here is some helpful background…
We already sell an Advanced Hip + Joint Complex, but we have so many requests from our customers that their dogs are starting to experience joint pain at a younger age and although it is not severe, they want to prevent it from getting worse. Based on the staggering statistics and the request for preventing the progression of hip and joint pain, we are launching a new hip and joint product called, Early Stage Hip + Joint Complex.
Why do dogs get arthritis and joint issues?  There are a number of reasons. Just like with people, as dogs age they develop inflammation and that causes arthritis. Larger dogs are also more prone to arthritis at a younger age than smaller dog breeds. Obesity also plays a role in early stage arthritis and joint issues. According to the VCA Animal Hospitals, 50% of dogs are obese. The added fat cells cause inflammation, which causes pain and arthritis. Arthritis can also be caused by injuries and other factors.
What can you do about it? Reduce inflammation! By naturally reducing inflammation, you also reduce the swelling and pain associated with arthritis and joint issues. This helps prevent long-term joint disease, and expensive and crippling arthritis. If you have a dog that shows some signs of slowing down, or is running and jumping a bit less, now is the time to help them.  
Here are a few facts about our new Early Stage Hip + Joint Complex:
This product is all-natural, safe, and designed for all dogs over the age of 12 weeks.

It is "Veterinarian Strength" and formulated so veterinarians are comfortable recommending it to their patients.

Like all VetSmart Formulas products, it has no artificial flavors, fillers, or colors and is wheat-free.

It's proudly made in the USA in FDA certified labs.

It can be used with most prescription medications that your pet might be using. As always, we ask that you check with your vet if your dog has medical conditions or is taking prescription medications.

It's super simple to take. You break up the tablets and toss them in your dog's food. You can combine it with all other VetSmart Formulas products that your dog is taking.

The beef flavor is great, and dogs will love it.

The key ingredients are a veterinarian recommended combination of Glucosamine, MSM, Chondroitin, Polygonum and other vitamins and nutrients.

As with all VetSmart Formulas products, Early Stage Hip + Joint Complex will not be sold in retail stores, and will only be available online from Pet Wellness Direct and our authorized distributors.
Here is the bottle label for reference: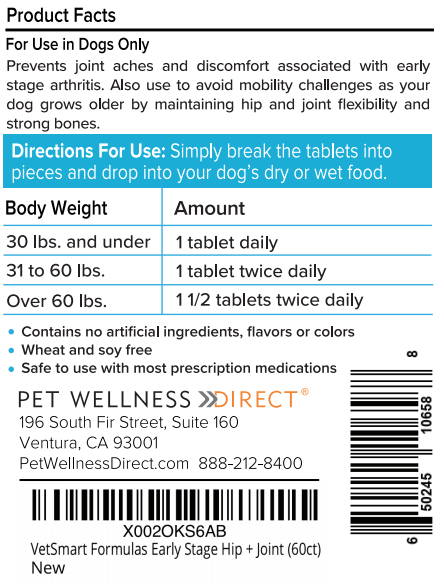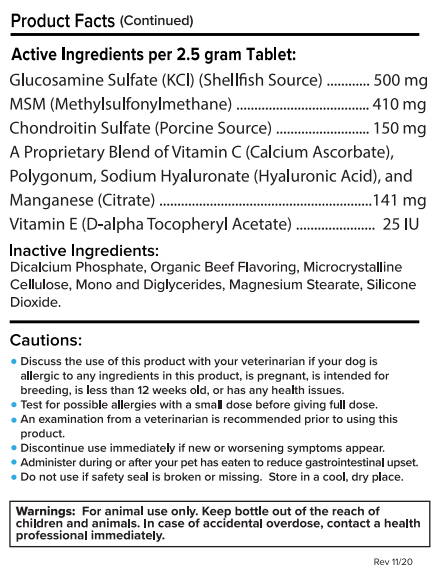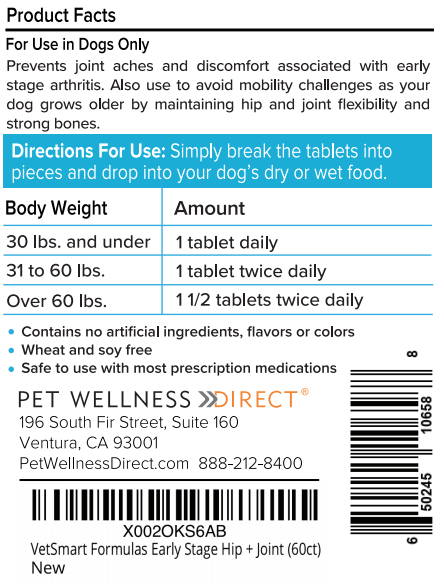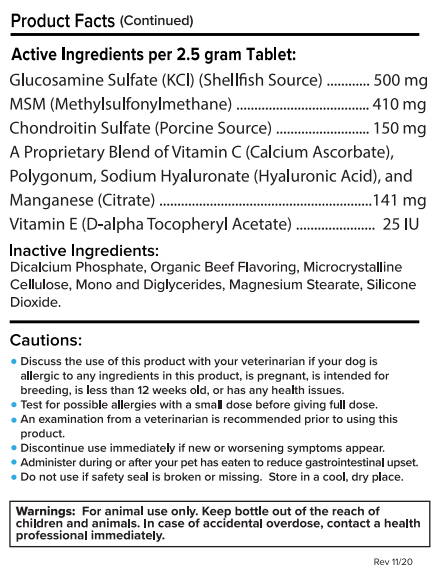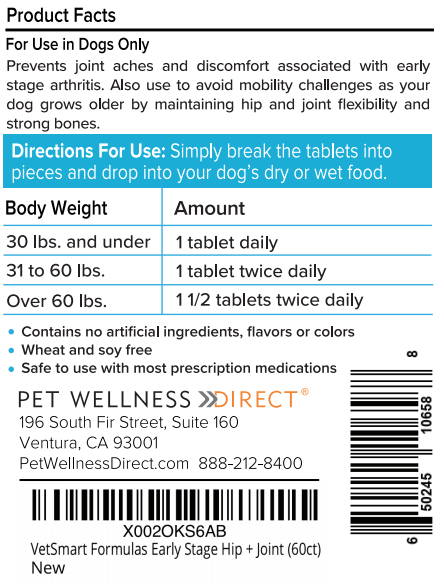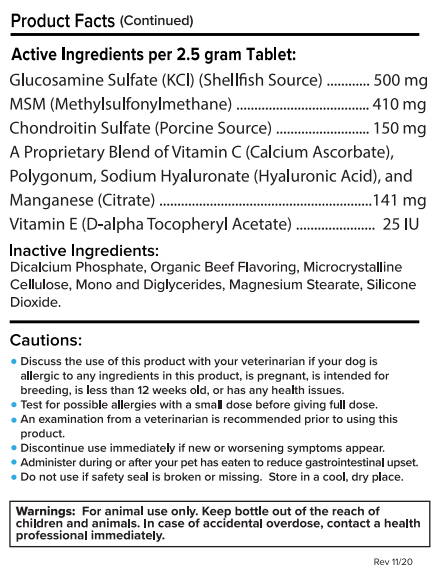 What's next?  We are excited about this new product! At this time, we are recruiting a small group of dog owners to use the product on a free trial basis. When our test batch is ready, we will send you a 30-day supply of Early Stage Hip + Joint, at no cost to you. All we ask in return is to help us with an online survey to give us feedback on how your dog likes the product, and the results that you observe.
We are recruiting on a "first come, first serve basis". If you are interested in helping us, please click on the link below. We will let you know if you have been accepted to be part of our trial group. We estimate the product samples will be ready to send out in approximately 30-60 days.
If you have any questions, please email us at support@petwellnessdirect.com
We believe that your dog is part of your family, and every family member counts! So, help us to help other pets!
Thanks so much,