A Giant Leap Beyond Ordinary Joint Supplements for Dogs
The Advanced Hip + Joint Complex with Green-Lipped Mussel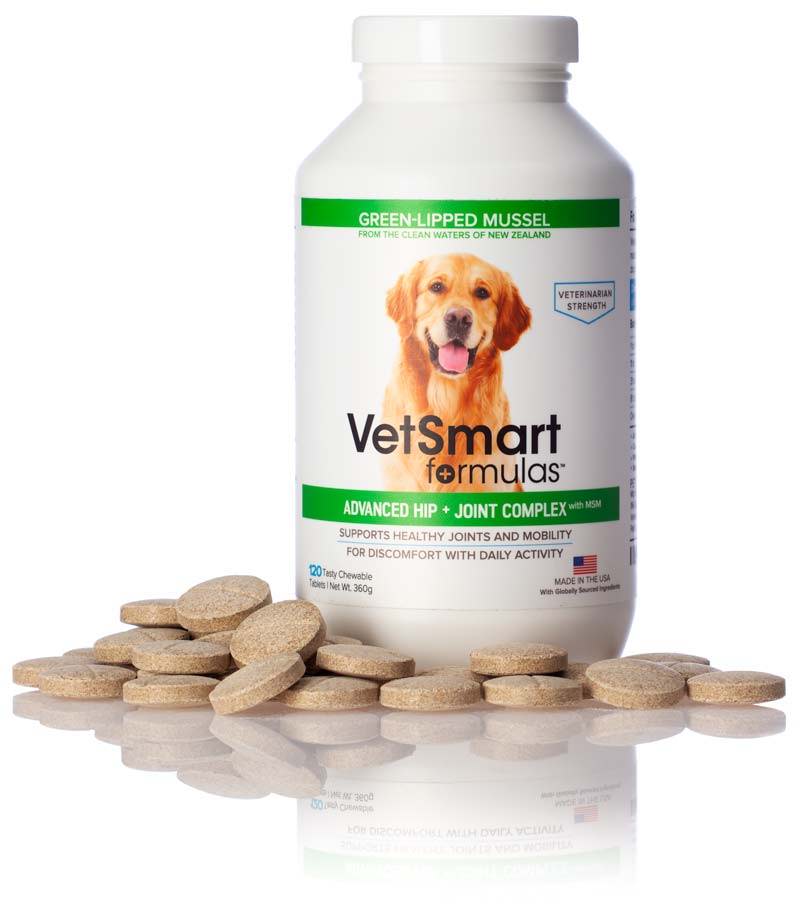 ✔ Works Quickly to Restore Mobility
✔ Naturally Relieves Joint Pain
✔ Effectively Reduces Inflammation
✔ Arthritis Relief
✔ Hip Dysplasia Relief
✔ Supports Recovery from Injury
---
---
---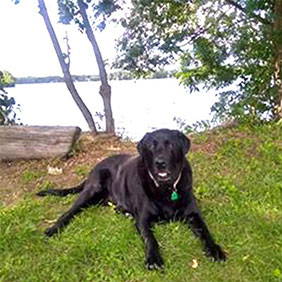 "My 11 year old lab was getting real stuff on his hind legs and walking so slowly. So I started looking online to see what else was put there because even advanced Cosequin didn't work. This is my second bottle and I didn't tell my husband to see if we would notice a difference. He says I went to feed him and he was doing this circle dance and has more energy. He's moving better now. Been researching that Green Lipped Mussel apparently does wonders!!! Will continue giving this to him. They must be tasty because he eats them like treats. I highly recommend this since my boy feels much better!"
Nancy T.
---
"Broke my heart when I found out my girl had hip dysplasia at 5 months old. I had tried other things so around a year old I started her on vet smart which I had seen on Facebook. My baby is over 3 and runs like the wind. Thank you vet smart for such a wonderful product."
Elizabeth W.
---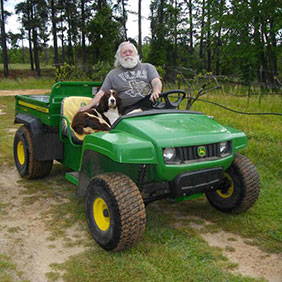 "Bessie Mae is 13 years old and about 6 months ago evidently had a collision with one of the other dogs and it knocked her down. In turn she was only able to drag her back legs. And as everyone knows, that results in major sores and abrasions on those back limbs. After the vet's visit with xrays showing arthritis in her back and legs, we chose to do laser treatments, senior feed, Gabapentin and pain meds. At the same time I ordered our 1st shipment of Vet Smart Supplements. Also ordered boots for those back legs and that got us thru the difficult days. But, she got back up on her legs in about 2 weeks and now she runs everywhere she goes. Doing really well. At this time we have cut back on everything but Vet Smart--that is what I give the most credit too. The laser really helped and would do that again if needed. She does not seem to have pain and she is enjoying life. Thank you."
Charlotte P.
---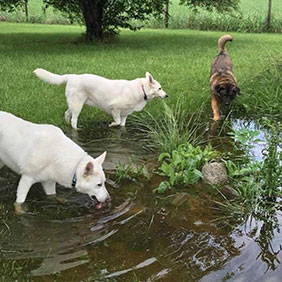 "Sadie, our 98# , 12 yr old shepherd mix had been having hip problems for awhile and could hardly get up. Within 30 days of being on this product she was getting up easily and playing with our other shepherds well. That was a year ago and Sadie still moves freely and has better quality of life."
Barbara W.
---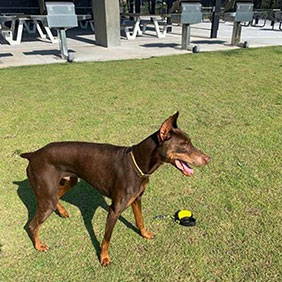 "My 10 year goofy Doberman is back to running around stealing sticks and chasing squirrels! His back legs were given out on him and he was falling continuously and required help getting down the steps. After using your product for approximately 2 months we noticed remarkable improvement."
Lee V.
---
---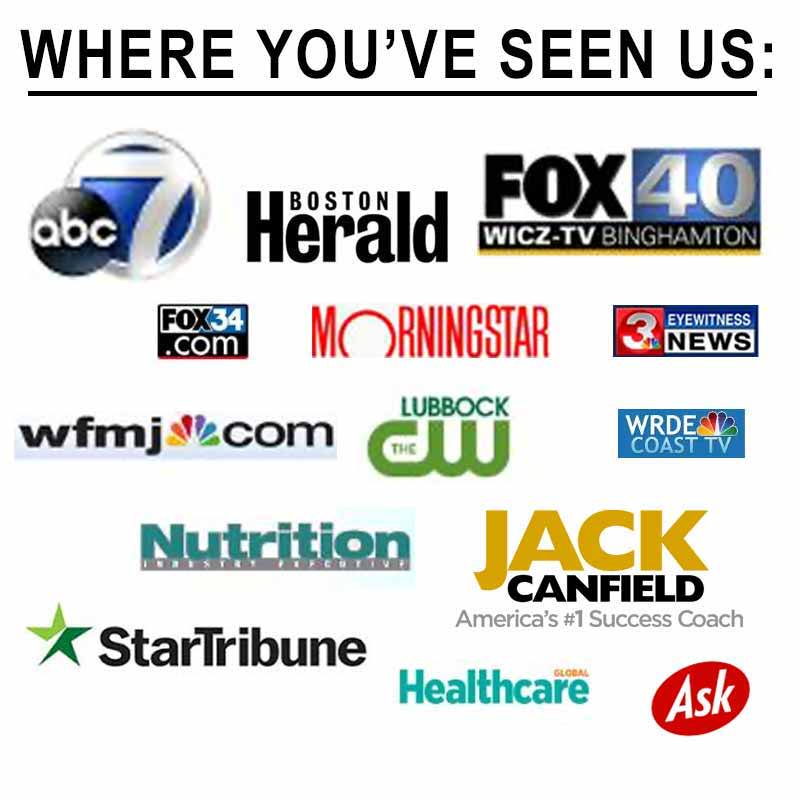 ---
THESE PRODUCTS ARE NOT AVAILABLE IN STORES AND ONLY AVAILABLE ONLINE FROM PET WELLNESS DIRECT.
Veterinary Strength
Veterinarians typically sell products that are stronger and more effective than what you might find in a retail pet store. The products are formulated to higher standards, and they contain more of the powerful "active ingredients" that are helpful in delivering the benefits to your pets. VetSmart Formulas products are specifically developed for veterinarians, and we are proud to call them "Veterinarian Strength."
Our products are not available in retail stores. They are made in the U.S.A., they contain no artificial colors, flavors or fillers, and are wheat and gluten-free.
---
VetSmart Formulas proprietary combination of natural ingredients makes THE difference.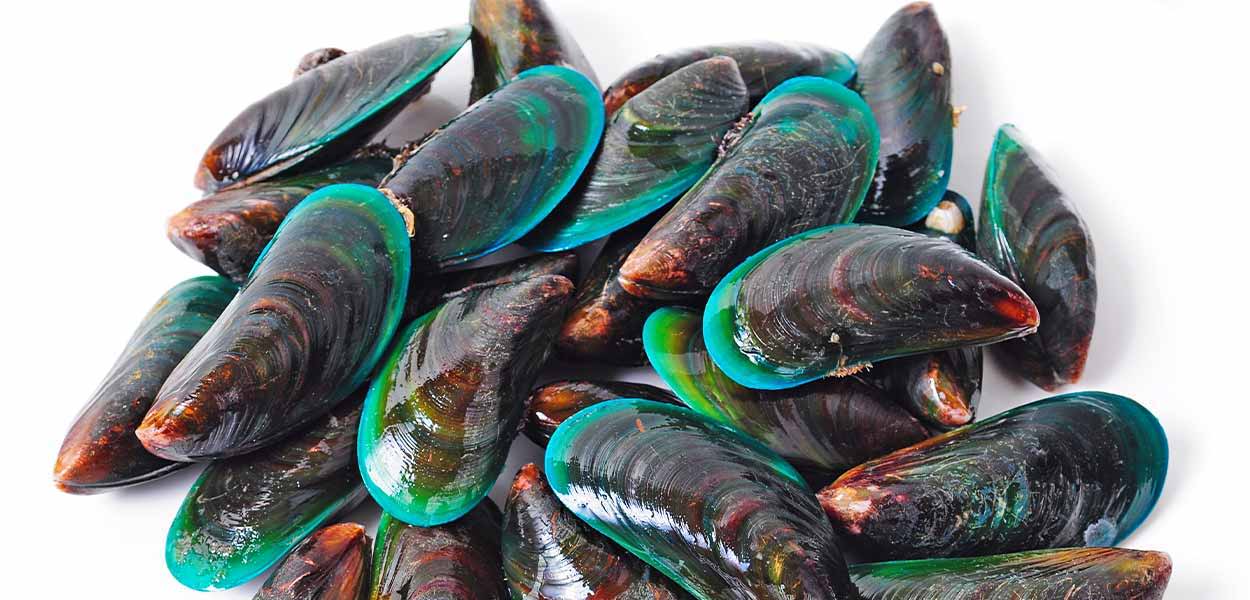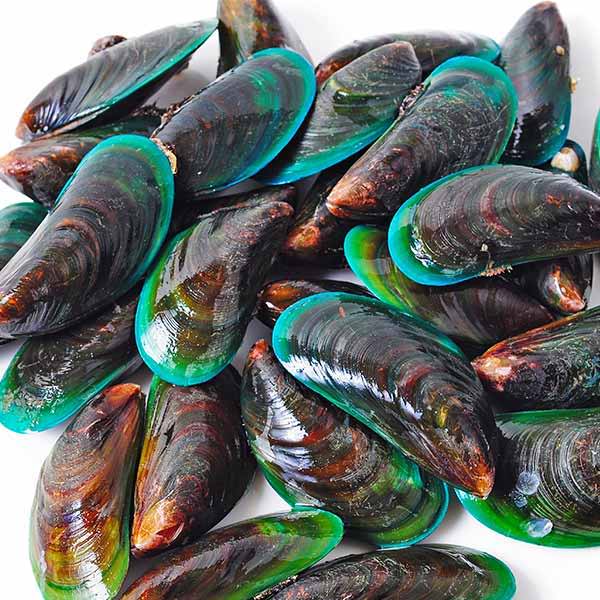 Green-Lipped Mussel:
Green-Lipped Mussels are found in the pure and clean waters of New Zealand, and have a distinct bright green edge, or "lip".
Medical experts know that Omega-3 fatty acids EPA and DHA are critical when it comes to reducing inflammation. Research indicates that Green-Lipped Mussel contains more than 30 critical fatty acids that reduce inflammation from arthritis, hip dysplasia and joint issues. This minimizes your dog's joint pain and discomfort.
Studies indicate that Green-Lipped Mussel is:
350 times more potent than salmon oil

350 times more potent than evening primrose oil

400 times more potent than flaxseed oil
Green-Lipped Mussel is a powerful all-natural nutrient that also allows pet owners to reduce or eliminate the use of prescription non-steroidal anti-inflammatory drugs (NSAID's) like Carprofen that can be harmful over long periods of time and may cause severe gastrointestinal irritation. Another benefit to Green-Lipped Mussel is it includes Polysulfated Glycosaminoglycans (PSGAG's), which are a key building block for your dog's healthy cartilage and joint fluid.
---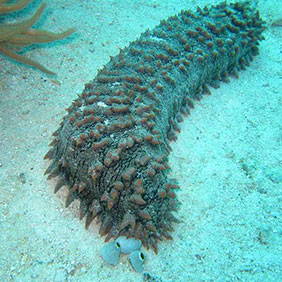 Sea Cucumber:
Sea Cucumbers are marine animals (echinoderm) related to the starfish and sea urchins. They are an excellent source of chondroitin sulfate and have long been used to support joint mobility and joint tissue maintenance.
We include Sea Cucumber as a purified powder in each tablet. Sea Cucumbers also have a potent anti-inflammatory effect, which helps alleviate pain in dogs with arthritis. According to a study published in 2008 in the American College of Rheumatology, patients with rheumatoid arthritis usually have high concentrations of certain lipids know as prostaglandins, and Sea Cucumber helps regulate the balance of prostaglandins. Additional benefits include healthier skin, an improved circulatory system, stronger bones and teeth, and an overall healthier immune system.
---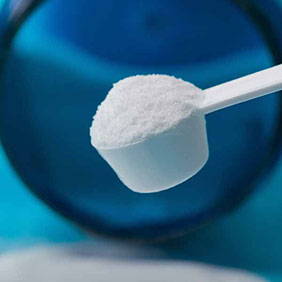 MSM
Methylsulfonylmethane is also known as MSM. This naturally occurring element contains a sulfur compound in a form your dog's body can readily use to help build joints and cartilage. MSM is essential for many bodily functions, and yet MSM is found in such small amounts in foods, so adding MSM to your dog's diet via supplements is critical. MSM helps maintain cell membrane permeability and regeneration to promote flexibility and elasticity of body tissue. It also is beneficial in building nerve tissue, hair, skin and nails. Research shows that MSM is safe and effective in promoting joint comfort as well as supporting a normal range of motion and responses in animals.  
---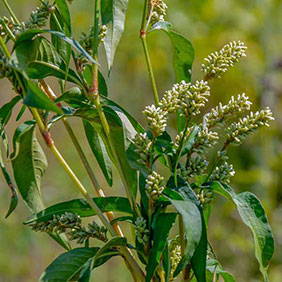 Polygonum:
Polygonum is a flowering plant in the buckwheat family. It has been studied since the early 1700's and has been used for years in the treatment of arthritis in traditional medicine.
Polygonum works by increasing the excretion of uric acid and improving the circulatory flow of the capillaries and tissues and providing anti-inflammatory effects. It is used in humans and pets specifically for arthritis, inflammatory and degeneration afflictions of the joints. According to studies by the National Center for Biotechnology Information, Polygonum is a powerful and natural anti-inflammatory with analgesic or pain relief effects.
---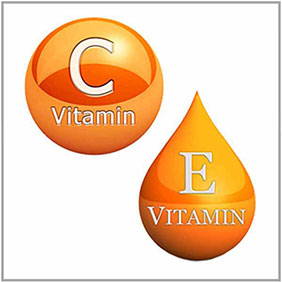 Vitamins C and E
Vitamin C is routinely prescribed by Veterinarians. It plays an important role in maintaining the health of collagen, and it appears to be especially helpful for slowing and possibly reversing degenerative joint disease, hip dysplasia, and spinal disorders. Dogs of all ages can benefit from Vitamin C, and as dogs get older, they become less proficient in producing their own supply of Vitamin C, so supplementation is recommended.
According to Veterinarians, there are several advantages to giving Vitamin E to dogs. These include improving the texture of the dog's coat and skin, promoting a healthy heart, and supporting the dog's immune system. Vitamin E also has anti-inflammatory benefits, so giving a dog Vitamin E can be a good way to reduce the painful symptoms of arthritis.
---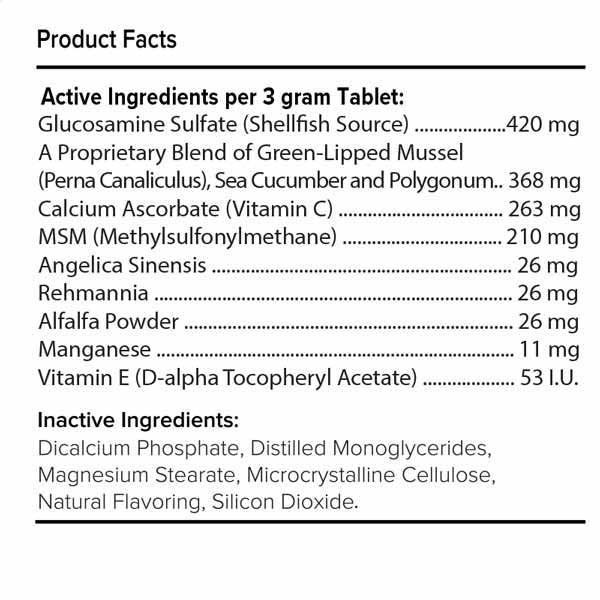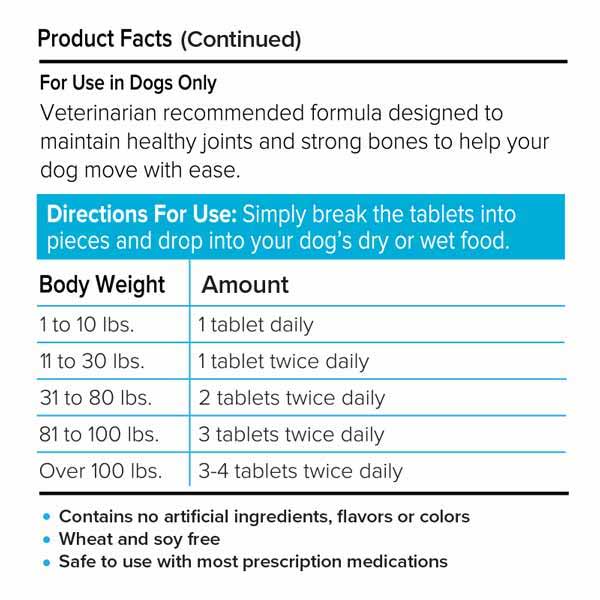 About VetSmart Formulas
Pet Wellness Direct was founded in 2015 out of frustration when pet owner Russ Kamalski was searching for a solution to help his dog Sienna with her hip and joint pain and the related inflammation.
As Sienna grew older, she started limping with pain and eventually resorted to walking on three legs. It was just too excruciating to watch. Russ avoided prescription pain pills and steroids since Sienna's vet indicated that over time the medications would harm her kidneys and liver. Sienna's suffering was not fair to any pet, especially one that was very much part of the family.
After researching the market for natural joint supplements, and trying most of them with disappointing results, the situation became more dire. The joint supplements on the market were not high-quality, the results were non-existent, and the lack of product information and education added to the confusion and frustration.
This journey led to a team of incredible experts that included veterinarians, biomolecular scientists, nutritionists, and manufacturers of medical-grade supplements. They all shared the passion to help pets with hip and joint pain, and helped us develop our first product under the VetSmart Formulas brand name. Advanced Hip + Joint Complex includes a highly effective combination of Green-Lipped Mussel, Sea Cucumber and natural ingredients that delivered amazing results to Sienna, and now, to more than 100,000 dogs across the country.
---
The Advanced Hip + Joint Complex with MSM
Tens of thousands of dogs benefit from VetSmart Formulas every month and we're confident it will help your dog too. We offer a 30-day, 100% risk-free, money back guarantee so you can try it for you dog immediately with ZERO RISK!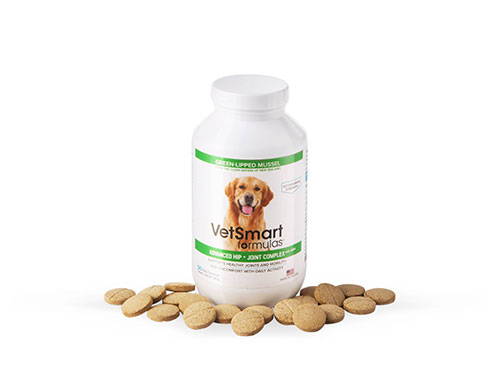 1 Bottle $59.95
MSRP $79.95 Save $20 (25%)
One bottle per month. Cancel Anytime.
3 Bottles $159.95
MSRP $239.85 Save $79.90 (32%)
30 Day Money Back + Free Domestic Shipping
3 bottles per month. Cancel Anytime.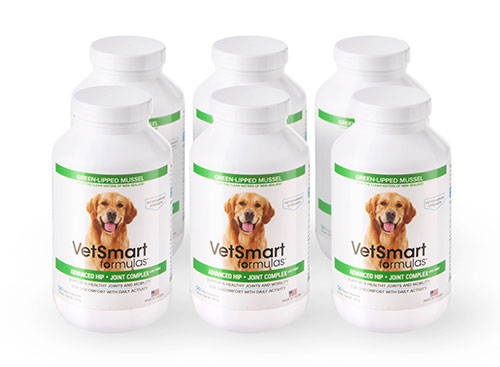 6 Bottles $299.95 
MSRP $479.70 Save $179.75 (38%)
30 Day Money Back + Free Domestic Shipping
6 bottles per month.. Cancel Anytime.
Order Your Supply, with confidence!
Tens of thousands of dogs benefit from VetSmart Formulas every day and we're confident it will help your dog too.

We offer a risk-free, money back guarantee so you can try it for you dog immediately with ZERO RISK!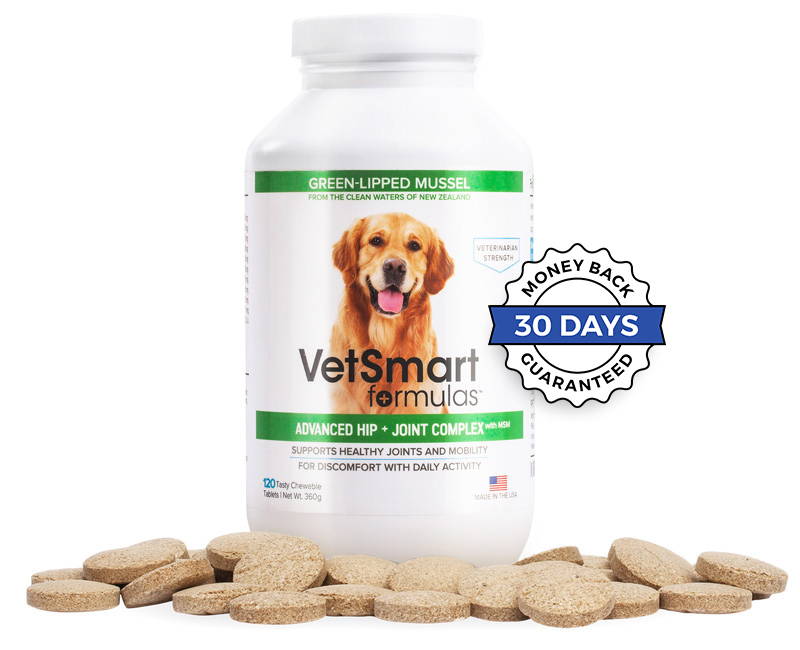 1 Bottle $59.95
MSRP $79.95 
Save $20 (25%)
• SAVE 5% ($56.95)
• Cancel Anytime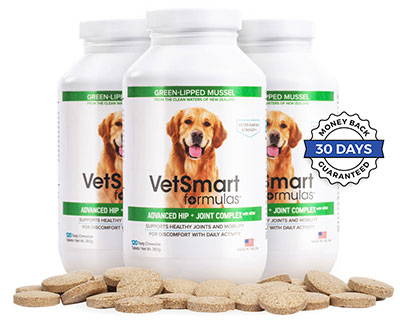 3 Bottles $159.95
MSRP $239.85 
Save $79.90 (32%)
• 30 Day Guarentee
• Free Shipping on Domestic Orders Over $100
• SAVE 5% ($151.95)
• Cancel Anytime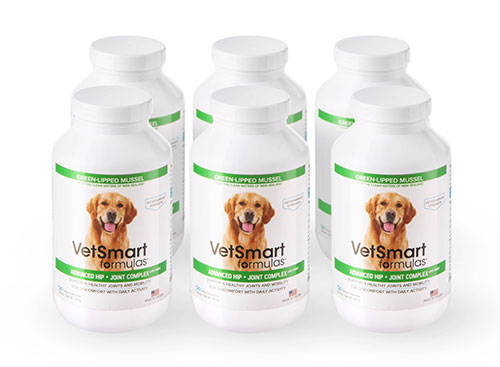 6 Bottles $299.95 
MSRP $479.70 
Save $179.75 (38%)
• 30 Day Guarentee
• Free Shipping on Domestic Orders Over $100
• SAVE 5% ($284.95)
• Cancel Anytime

30 Day Money Back Guarantee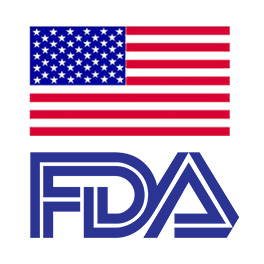 Made in the USA in FDA Audited Labs.
Frequently Asked Questions